| | | |
| --- | --- | --- |
| Product code C00121 | Currently out of stock | |
Belt VULKAN Classic - burn excess weight! (size 110 x 20 cm)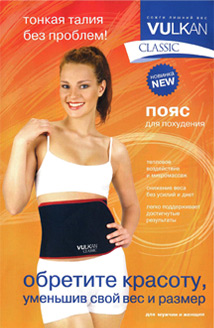 Currently out of stock
"Vulkan Classic", belt size: 110 x 20 cm - for men and women.
It is an ideal thermal form that burns fats concentrating on the waist and abdomen.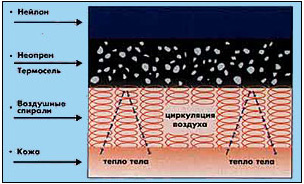 This belt consists of three layers: an outer layer of nylon with lycra and an intermediate layer of neoprene cells (stretched rubber), covered with a special material - thermosel.
These three components provide excellent thermal insulation and micro-massage of the skin without obstructing the airflow to eliminate excess weight. Has a Velcro closure.

The "Vulkan Classic" belt is the ideal thermal shape that burns fats that concentrate on the waist and abdomen. In this case, it is not required to observe a special regimen and engage in exhausting gymnastics.

The belt is also useful for people suffering from pain in the spine, lower back (with sciatica), in the kidneys, etc. It reduces pain and stimulates blood flow in the lumbar region.

The manufacturing technology of the slimming belt makes it as effective as possible. "Vulkan Classic" increases the effectiveness of sports by 30%, it is also suitable for people who want to lose weight quickly and at the same time without much physical exercise. Even with very little physical effort on your part, the belt tightens the muscles and gives the body elasticity.

The Vulkan Classic thermal belt is used by many of the world's most famous athletes to keep fit. Quality control at all stages of production is a guarantee of a long service life of the belt. Specially designed materials allow air to flow to the skin to provide oxygen and eliminate excess sweat. In this case, heat is maintained without harm to the skin.


The special material of the VULKAN thermal belt is gentle on the skin and does not damage it. The density of neoprene prevents injury, muscle strain even during intense sports.
INSTRUCTIONS FOR USE:
1. The Vulkan Classic belt can be worn directly on the skin for 12 consecutive hours without fear of sweat irritation.

2. Do not tighten the belt too much: it is effective even with normal tightening.

3. The belt has no special contraindications for use. It is especially useful for people suffering from pain in the lower back (with sciatica), spine, kidneys, etc. The thermophysiological protection of the Vulkan Classic belt helps to prevent injuries during physical activities.

4. The effectiveness of gymnastic exercises that eliminate the fat layer, cellulite, with the use of the Vulkan Classic belt increases by 2 times.

PRACTICAL
ADVICE Wash the belt in water at a temperature of approximately 40 degrees by hand, do not iron.