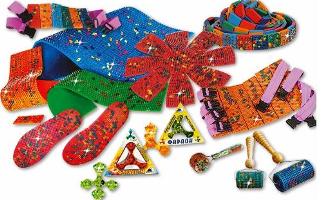 The applicator created on the basis of Chinese traditional medicine by Doctor N.G. Lyapko meets many of the requirements. Assuming as a basis a method of acting with a bunch of needles (mei-hua-jen), Doctor suggested using needles made of various metals, which function as microelements and play an important part in the processes of interchange in the organism (iron, copper, zinc, nickel, silver), locating them on the rubber base. It contributed to the enhancement and diversification of the actions on the skin layer: immediate mechanic action with purposefully sharpened needles which exclude the skin damage; electrical action with micro-currents that appear between the needles because of difference in potentials; galvanic diffusion of microelements; electric fields of low intensity.

Simplicity of the application, the minimum risk of involving complications and high efficiency enable to use applicators in case of a number of pathological conditions. Various forms and dimensions as well as diverse ways of fixation make it possible to dose out the action on the skin, up to many hours of stimulation.

The above mentioned simplicity and safety of the method enable to widely recommend its self-dependent application by patients at home (only 7% of patients have an access to acupuncturist) to eliminate pains in case of chronic diseases, for enhancement of adaptive functions of the body, prophylaxis of diseases, which makes it possible to exclude medicines or to reduce their doses. Many years' experience of the use of applicators in neurological clinic has proved high efficiency of the method in case of neurological syndromes of osteochondrosis, emotional disorders, diverse vegetative algic syndromes and asthenia conditions.