| | | |
| --- | --- | --- |
| Product code D00547 | Currently out of stock | |
AG127D Gold Back Shiatsu Neck Massager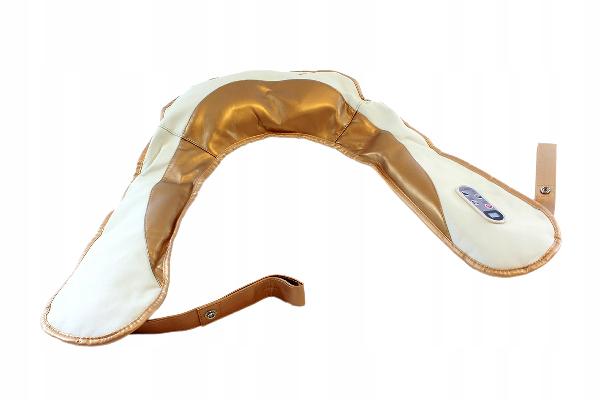 Currently out of stock
A brand new, high quality neck and shoulder massage device that perfectly utilizes the percussion massage technique.

Thanks to this device, you will finally be able to relax and strengthen tired back and neck muscles, but not only! The massager is also great for use on other parts of the body, to which we can successfully apply the automatic massage mode, which is a combination of all its types. You will make loose and stiff muscles elastic again and at the same time relax your neck and back after a hard day at work.

It is an excellent form of relaxation for tired and tense muscles in the body. The product perfectly warms and relaxes. Check it out and indulge in a massage like in a professional clinic.

Product Features:

Relax and release feelings of tension, stress and fatigue.
Use the massager every day and you will feel great and your whole body will be fresh.
This fantastic device will provide you with a comprehensive massage and relaxation in all parts of your body.
The secret of the high efficiency of the massager lies in the special kneading and rubbing technique of tense and painful muscles.
Remarkable ease of use with only 4 buttons on the control panel and LCD display.
In automatic mode, the type and intensity of the massage is selected by itself.
Optional accessories and a long extension make it easy to use the massager.

Specifications:

Material: PU leather
Power supply: 230 V 50 Hz (mains)
Rated power: 25 W
As many as 99 massage programs!
Adjustment of massage intensity (20 degrees)
Special impact massage technique (2 special heads)
Convenient control panel with 4 buttons and LCD display (easy to use)
Additional cover, cloth cover and long power cord
Dimensions: 40 cm x 15 cm x 13, 5 cm
Total length: 138 cm
Gray color
Weight: 2 kg.

Package contents :

AG127D electric massager
Power supply unit with a long extension cord
Everything is packed in a sturdy and aesthetic box.