Would you like your business to be well known and your products to be in demand?

Offer your customers and partners as a business card a gift or a useful accessory –
a light reflector with the logo of your company, and join a promotional Internet project "Baltic Key/ b-key.eu."

Your business will be famous and you customers will be safe!

Advertise your logo or a brand alongside the "Baltic Key "brand – a promotional internet project of a non-profit organization" Baltic Contact" (MTÜ Balti Kontakt)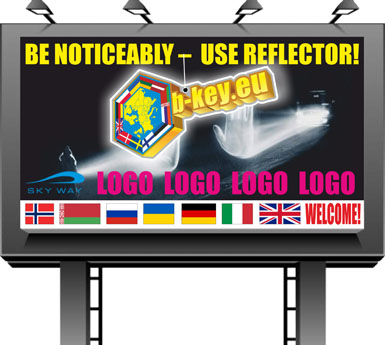 Advertising "Baltic Key" you advertise yourself!
Let's assume that as a manager of an enterprise or of a marketing department, you repeatedly ask yourself the following questions:
How to cut advertising and marketing expenses?
How to single out your brand, products and services relative to your competitors?
How to attract new customers and increases a market share without lowering the price?
How to successfully compete with a stronger rival?
How to advance new products to the market so that they are in demand?
How to close profitable deals faster?
There is a means to let a small business significantly reduce advertising expenses and a big business - advertise cheaper. It is a joint partners' advertising when in one advertising material, whether it is a wallpaper, leaflet, board, light reflector, video clip, and the internet, a potential customer is offered products or services of two or more companies simultaneously.

It is no secret to anyone that advertising is the engine of commerce

However, many companies experience that their advertising budget is spent inefficiently and is not giving the desired return.

We suggest that you place the advertisement of your brand or logo on a light reflector. Such light reflectors, in addition to its intended use, will serve you as a unique and useful business card.

On the other side of a light reflector will be an image of a unique and officially registered logo of the "Baltic Key" brand, which symbolizes a key to The Baltic states.


The example of an image on a light reflector.




Become more visible!

Such a two-sided light reflector will surely improve the image of your company in the eyes of your customers and partners, and will also be bringing some memorable emotions.

By the way, when manufacturing reflectors, in contrast to the commonly used method of sign writing on the frame of an item, we employ a unique technology of a multicolored and digital printing on the inner foundation of a reflector which doesn't corrupt or distorts fundamental properties of the reflecting element.

Such technology of sign writing is used only in Estonia and it produces a virtually unlimited period of service of the image on the light reflector. Our designers work on the design and singularity of reflectors.

What's the use of such advertising?

Thirstily, you will receive more money from your business!
In other words, investing money into advertising on light reflectors, your business is within hearing and in full view, and as a result you get more customers.

Secondly, your light reflectors will be providing protection to their owners on roads in darkness.

Thirdly, your advertising will be promoting Baltic States as being a key to Europe.

Moreover, you will receive a nice bonus: we will place your advertising in the form of an advertising blog and of a video advertisement on Baltic key website www.b-key.eu which will be seen by all users of the website.

How can you use your light reflectors?

During your advertising campaigns or when closing deals, you can, as a nice addition to the purchase by customers, present them with two sided reflectors- business cards with your own brand on them.

For example, when selling health goods you can use the following slogan:
"We take care of your health and your security on roads!"
Imagine what a customer would feel if, as a sign of care and in addition to the purchased product or a closed deal, you presented him with a light reflector with your logo on it.

Ordering our light reflectors with your brand on it, you show care for the safety of your customers and partners on roads.

In addition to it, with the help of the webpage www.b-key.eu imprinted on the other side of the reflector, your customers will find information regarding advantages of using two-sided reflectors as well as your advertising.

You can also entrust our company (Non-profit organization) MTÜ Balti Kontact and all our partners with the distribution of your light reflectors.

Your business card- light reflector is not only a noticeable advertisement but is also your image, popularity, respect, success, and a means to extend your business.

Your business will be famous and your customers – safe!

Price quotation for the manufacturing of two sided light reflectors with your brand.
| | | | | | | | |
| --- | --- | --- | --- | --- | --- | --- | --- |
| quantity | 500 | 1000 | 2000 | 3000 | 4000 | 5000 | 10000 |
| RH-B price of one item | 1,589 | 1,155 | 1,012 | 0,938 | 0,939 | 0,824 | 0,794 |
NB! The price is in Euro and is net of Income tax.

Extra bonus:

The placement or your advertising blog and of a video clip on our site is free of charge depending on the quantity of ordered light reflectors (the video-clip is provided by you).
| | | | | | | | |
| --- | --- | --- | --- | --- | --- | --- | --- |
| Quantity | 500 | 1000 | 2000 | 3000 | 4000 | 5000 | 10000 |
| month | 1 | 2 | 3 | 4 | 5 | 6 | 12 |
Our overall aim is the new image and PR!
Aleksander Neson,
author of the concept and the project executive.
MTÜ Balti Kontakt
www.bk.ee
E-mail: alex@lerson.ee