Esperanza ECT002 Infrared Thermometer Dr Lucas Esperanza ECT002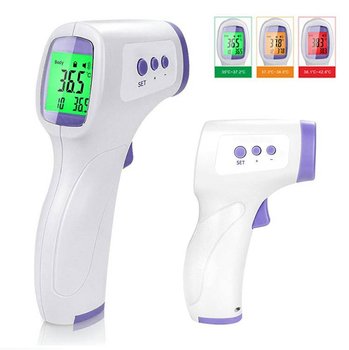 26.99 EUR
Description of the infrared thermometer Esperanza ECT002 Dr Lucas The

infrared thermometer Esperanza ECT002 Dr Lucas measures the temperature of the body and various surfaces. Has the function of an alarm with a backlit of different colors when the measured temperature is outside the normal range. It only takes 1 second for the instrument to take a measurement and show the result on the LCD. Useful for taking body temperature measurements in children who are impatient to take longer measurements quickly. Thanks to this thermometer, they won't even notice that a measurement has been made.

Features of the infrared thermometer Esperanza ECT002 Dr Lucas

The measurement result is visible after 1 second
Measurement distance: 5 ~ 15 cm

2 temperature measurement modes:
- body: temperature measurement range 32 ° C ~ 43 ° C (accuracy: 0.3 ° C)
- surface of various materials: measurement range 0 ° C ~ 100 ° C (accuracy: 1 ° C)

2 temperature data records

3 different backlight colors (for measuring human temperature):
- green (below 37.5 ° C)
- orange (37.5 ° C ~ 38.0 ° C)
- red (above 38 ° C)

Fever alert function: when the temperature body exceeds 37.5 ° C, beep sounds
Large LCD display: 30 * 30mm
Automatic shutdown
Storage temperature: -10 ° C ~ 60 ° C
Power supply: 1 9V battery (not included)

Esperanza infrared thermometer specifications ECT002 Dr Lucas
Type: Infrared thermometer
Axillary (axillary) area: no
Rectal area: no
Oral area: no
Auricle: no
Forehead: yes
Non-contact: +
Measurement duration, s: 0.5
Measurement range, ° C: 32-43 (temperature body ") 0-100 (" object temperature "mode)
Measurement accuracy, ° C: ± 0.3
Memory capacity: 34 measurements
Batteries: 1 9V battery
Air temperature measurement: no
Temperature measurement of liquids, surfaces: no
Flexible tip: no
Automatic shutdown: no
Official warranty for the Esperanza ECT002 Dr Lucas infrared thermometer - 12 months from the manufacturer.

Country producer of infrared thermometer ECT002 Dr Lucas - tm Esperanza (Poland).