Neotec XJ-3500 3 Layer Air Purifier Plasma UV Light Filter

249.00 EUR
XJ-3500 Ionic Air Purifier incorporates a triple-layer, plasma dust collector and UV germicidal technology that can capture fine particulates in the air effectively.

It is easy to clean the dust collector as you only need to press the button at the top of the collector handle and pull it out. There is no need to replace any filter.

The unit also generates a rich amount of negative ions and activated oxygen to quickly remove smoke, beat odors, and neutralize toxic and harmful gases.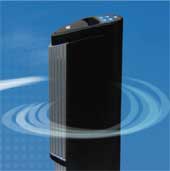 The built-in UV lamp kills bacteria and viruses trapped in the internal of unit, effectively improving the air quality. The UV lamp consumes an estimate of 12 watts, and has a continuous service life of 8000 hours.

The low sound fan rapidly circulates indoor air. An independent ON/OFF switch allows easy control of the fan as required. When the fan is turned off, ionic breeze circulates air under a completely silent mode.

Manual control panel at the top of unit adopts a set of soft touch buttons. You may select to run high, middle or Iow level according to the condition of the room. The unit can also perform a 90 degree rotation, which significantly extends its purification coverage.

The product comprises a remote control that is small, slim and sensitive. A slot is designed at the top of the unit for the remote control. It comes in handy when the unit is out of your reach.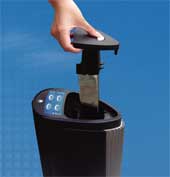 Key Features:

Use advanced ionic air movement technology
Extra Long electrostatic dust collector
Powerful UV germicidal technology
90-degree rotation extends purification coverage
Independent fan rapidly circulates indoor air
Negative ions and activated oxygen remove odors and smoke
No need to replace filter,easy for cleaning
Remote control provides,convenient use

Specifications:

Model: Neotec XJ-3500
Applicable are: 50m2
Negative Ion Output: ≥2 x 105/cm3
Voltage: 240V AC, 50Hz
Power Consumption: 25 Watts
UV Spectrum: ≥200μw/cm2(at 10cm-distance)
Dimensions (mm) 200 x 267 x 760
Weight: 4.3kg
---
Similar products