Shorts Vulkan Fashion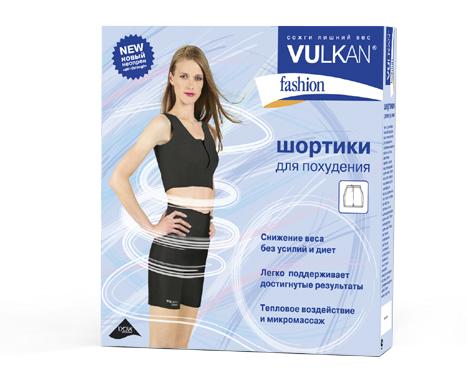 46.90 EUR
Slimming shorts sizes

S waist - 58-71, hips - 86-92
M waist - 66-76, hips - 88-95
L waist - 71-81, hips - 90-100
XL waist - 76-86, hips - 92 -104
XXL waist - 81-91, hips - 100-110

Comfortable unisex shorts with sauna effect for weight loss Vulkan Fashion Vulkan Fashion in a stylish color wet asphalt will help you get rid of fat deposits on the hips and abdomen in a short time. These slimming shorts are suitable for both women and men.

The use of Vulkan Fashion weight loss shorts is absolutely safe for health, thanks to the use of cutting-edge technologies and materials in the development and production of slimming shorts.

The action of shorts for weight loss is based on the thermal effect (mini-sauna effect) which is created thanks to the multi-layered material of shorts for weight loss Volcano Fashion, at elevated temperatures, subcutaneous fat burns faster and excess moisture and toxins are removed from the body. The latest generation of fabrics used in slimming shorts: thermosleeve, ventilated neoprene (aeroprene) and nylon. Thermoseal prevents skin contact with aeroprene and provides skin micro-massage that reduces signs of cellulite, aeroprene creates the effect of a mini-sauna, nylon gives the Vulkan Fashion weight loss shorts a stylish and fashionable look. The multi-layer material provides air ventilation and removal of moisture from the surface of the skin to the outer side of the material, thanks to these properties, slimming shorts can be worn for as long as

Stylish and effective shorts for weight loss Vulkan Fashion is produced by the Taiwanese company Vulkan, which produces clothing for weight loss, fitness clothing. Vulkan has a proven track record of producing efficient, reliable and great looking fitness apparel and is known worldwide.

In the shorts of the new Vulkan Fashion line, you will feel light and constantly improve your figure, no matter where you are and what you are doing, in the gym or at home. Slimming shorts are unisex category, which means that they can be used by both women and men.

Composition: 10% - Lycra, 80% - Neoprene, 5% - Nylon, 5% - Cotton.

Practical tips: wash Vulkan Fashion shorts in water at t about 40 degrees by hand, do not iron.

Shelf-life Unlimited.

Made in Taiwan.
---
Similar products