| | | |
| --- | --- | --- |
| Product code H00160 | Currently out of stock | |
Sauna belt Vulkan Fashion (EXTRALONG – 110 x 20 cm),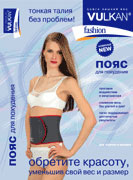 Currently out of stock
he Vulkan Fashion belt (EXTRALONG - 110 x 20 cm) warms up the abdomen and lower back, burning excess body fat. It fits snugly around the figure and does not restrict movement, so you can wear it even under clothes. The presence of modern constituent materials in the composition of the fabric creates a strong warming effect in combination with micro-massage of the skin. However, the air circulates freely, removing excess sweat and preventing skin irritation. The stylish design of the belt allows you to wear it in the most elite fitness rooms, while the dense material of the belt will protect you from muscle strain and injury even during intense exercise. You will see that your stomach is melting before your eyes, while the skin does not become flabby. The warming effect of the Vulkan Fashion belt allows you to get rid of pain in the lower back of a radiculitis nature.

Composition: 10% - Lycra, 80% - Neoprene, 5% - Nylon, 5% - Cotton.

Practical tips: Wash Vulkan Fashion in water at t about 40 degrees by hand, do not iron. The Vulkan Fashion belt can be worn directly on the skin for up to 12 consecutive hours without fear of sweat irritation. But, if you have sensitive skin, it is recommended to wear a Vulkan Fashion belt over cotton underwear.

Shelf-life Unlimited.

Made in Taiwan.
---
Similar products