Breeches Vulkan Fashion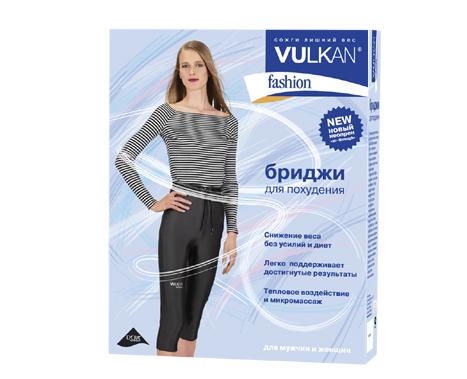 59.90 EUR
Size slimming bridge

S waist - 58-71, hips - 86-92
M waist - 66-76, hips - 88-95
L waist - 71-81, hips - 90-100
XL waist - 76-86, hips - 92 -104
XXL waist - 81-91, hips - 100-110

Vulkan Fashion breeches for sports and fitness with sauna effect will allow you to effectively get rid of extra pounds in a relatively short time without causing harm to health. Modern materials used in the production of breeches are responsible for the effectiveness of weight loss, they allow you to achieve good results in losing weight.

The modern multi-layer material (cotton, lycra, nylon, thermoseal and neoprene) used in slimming breeches creates a thermal effect and, under the influence of elevated temperatures, fat cells break down much faster, and toxins and salts are also removed from the body with sweat secretions, which are displayed on the outside of the material . It is also worth noting that the material does not prevent the flow of air to the skin, and the micro-massage created by the thermoseal tones the skin and prevents the appearance of stretch marks.

Vulkan Fashion breeches Vulkan Fashion for weight loss with thermal effect can be worn not only by women, but also by men and at any age. For young women, prevention of the fight against cellulite should be started, even if it is not yet noticeable, but is already actively developing. Cellulite treatment in the early stages is much more effective and is treated faster in the later stages without surgery.

The world-famous company Vulkan is one of the leading manufacturers of weight loss clothing, which has good properties and increased efficiency in reducing weight and maintaining a perfect figure. The new Fashion line has become even more stylish and fashionable.

Composition: 10% - Lycra, 80% - Neoprene, 5% - Nylon, 5% - Cotton.

Practical advice: wash Vulkan Fashion breeches in water at t about 40 degrees by hand, do not iron.

Shelf-life Unlimited.

Made in Taiwan.
---
Similar products