| | | |
| --- | --- | --- |
| Product code A00020 | Currently out of stock | |
«AirComfort XJ 201»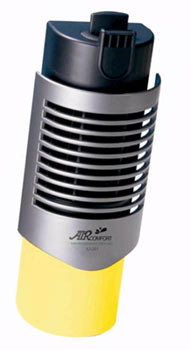 Currently out of stock
Use advanced Ionic Breeze Technology
Cordless electric plug, easily attached to wall outlet
Noiseless design, no motor
Ionizer dust collection plate
No filter replacement necessary, easy to clean
Night-Light LED version lasts forever
Eliminates nicotine smell, bacteria, molds, allergens and pet dander
Saves energy, use only 3 Watts of electricity daily
Keep indoor air clean, fresh and healthy, all the time!

XJ-201 Ionic Air Freshener and odor neutralizer is an ideal choice for small spaces such as bathrooms, storerooms, walk-in closets, pantries and other small areas where the airflow is usually stagnant.

Key Features:

Cordless electrical plug.
The XJ-201 with its innovative and compact design features cordless electrical plug. It enables close fit to the wall without occupying unnecessary spaces.
LED nightlight that never burns out.
Long life LED that provides enough light to a small space enables XJ-201 to be an ideal electric appliance for households.
Produces negative ions to clean particles as small as 0.01 micron.
Negative ions force particles as small as 0.01 micron from the air. They can also neutralize airborne viruses and microorganism as well.
Metal Dust collection plates to absorb airborne contaminant.
The XJ-201's uniquely designed metal dust collection plates produces static electricity to absorb airborne dust, pollen, mold spores, pet dander and cigarette smoke near around.
Silent, cost efficient & no HEPA filter.
The XJ-201 features virtually silent operation. HEPA machine on the other hand cause serious noise pollution and wastes hundreds of dollar in electricity as compared to XJ-201s $3 of electricity per year.
| | |
| --- | --- |
| Model | XJ-201 |
| Voltage | AC230V/50Hz |
| Power Consumption | 3 W |
| Oxygen Output | 0.05 ppm |
| Applicable Area | up12 m2 |
| Dimensions | 220x90x80 (mm) |
| Weight | 294g |
| Sound Level (dB) | |
| Negative Ion Output | 1x100,000 cm3 |
---
Similar products