| | | |
| --- | --- | --- |
| Product code E00074 | Currently out of stock | |
Barbecue "Aromat-1"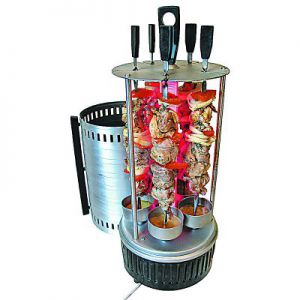 Currently out of stock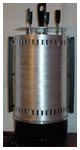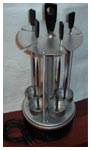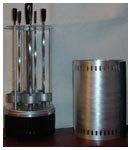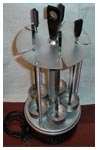 Electric barbecue "SC-KG10N" - a necessary service for your kitchen!

The original design and small dimensions of the barbecue will fit perfectly into any interior.

The electric barbecue with a vertical arrangement of skewers is designed for cooking barbecue from meat, chicken, fish, game or vegetables at home - at home or in the country. This device is considered one of the most popular in the Russian market of household appliances.
Specifications:
Rotating skewers
Number of skewers - 5 pieces (set)
Warm-up time to operating temperature: no more than 5 minutes
Rotation speed of skewers: 2 revolutions per minute
Heating temperature: no more than 650 C
Mass of simultaneous loading: no more than 1 kg
Cooking time at full load 15-20 minutes
The number of pieces placed on a skewer is 5-7 pieces
The heating element is protected by a glass tube
Supply voltage 220V
Power 900 W
Electricity consumption, 1kWh
Material stainless steel and food grade aluminum
Easy-to-wash removable parts
Dimensions:
450 x 214 mm.
Packed weight: no more than 2 kg

Description The

electric barbecue grill consists of a metal case with an original design, a heater made of nichrome wire wound on a ceramic rod, covered with a protective quartz glass, and a skewers drive electric motor. Around the heater, along the circumference of the electric barbecue, 5 skewers with bowls for draining fat are vertically located, rotating around their axes at a frequency of 2 rpm. Frying in an electric barbecue is carried out by radiating heat from the heater and reflecting it from the protective casing. Such a barbecue will be a good and necessary purchase for barbecue lovers, an excellent and original gift for hospitable hosts who are accustomed to gourmet cuisine at any time of the year!
The effect of grilling and high-quality processing of meat is achieved due to the action of direct infrared radiation.
The quality of the prepared barbecue does not differ from meat cooked in the traditional way on the coals of a fire. The only difference is the smell of natural smoke. This device is one of the few that are considered the best in terms of ease of use and preparation, even among imported analogues. The body of the electric barbecue grill is made of high-quality food-grade aluminum (note that it is not enameled, as in analogues), which allows you to always keep the device in absolute, perfect cleanliness. Cooking time at full load - 15-17 minutes. The number of pieces placed on a skewer is 4-7 pieces. I would like to add that the Aroma-1 electric barbecue grill is the best device for preparing a delicious barbecue dish. The device is perfect as a stand-alone, compact, electric barbecue grill in small catering establishments,
BON APPETIT!

Distinctive properties

- The set includes 5 pieces of excellent twisted skewers made of high quality stainless steel.
- To collect juice, fat, convenient aluminum cups
are provided - It is possible to plant standard pieces of meat, weighing 20-30 grams

- Cooking time at full load - 15-17 minutes


How to cook barbecue, which will be the safest for health: on the grill, on the grill Or in an electric grill?

Barbecue or grilled shish kebab can pose a health risk. During the heat treatment of meat, fat is released, during the combustion of which carcinogens are formed - substances that cause cancer.. In addition, fat on the grill accumulates carcinogens. With repeated use of the grid, the harm only intensifies.

The safest is shish kebab cooked in a vertical shish kebab. With this method of cooking, fat flows into a special container, no smoke is formed, which means that the risk of carcinogens getting into the kebab is reduced.

American scientists conducted a study that showed: basil, mint and rosemary, added to the marinade, reduce the amount of carcinogens that are formed during the preparation of barbecue. You can also add cumin and oregano.