| | | |
| --- | --- | --- |
| Product code E00090 | Currently out of stock | |
Magnetic stand NEVOTON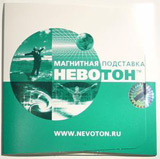 Currently out of stock
Gift - Magnetic stand NEVOTON
The stand is designed to structure liquids, which gives them new unusual properties.
Water treated with a stand quickly stops bleeding, accelerates the healing of wounds, cuts, and scratches. The liquid that has been in the field of the stand improves metabolic processes in the body, accelerates the germination of seeds and seedlings. Regular consumption of this liquid in food accelerates the excretion of toxins from the body.
Mode of application:
Pour boiled water, tea, coffee, juice, tincture or other liquid into a glass or non-metal cup. Put it on the NEVOTON magnetic stand. Stir the liquid with a spoon for 1-2 minutes. The perfect drink is ready!

RECIPES FROM NEVOTON

Apple "lemonade" from the common cold
An effective remedy for colds. Stir in a glass of boiling water 1-2 tablespoons of apple cider vinegar and the same amount of honey. Put the drink on the NEVOTON magnetic stand for 1-2 minutes. Drink and at night you can prepare yourself another glass of a healthy drink.
Drink of Hippocrates
Slice of orange (lemon) -2 pcs; Red wine - 2 glasses;
Honey - 1 teaspoon; Cloves - 2 sticks;
Cinnamon - 1 pinch.
Bring the drink to a boil, put on a magnetic stand for 1-2 minutes and drink in small sips at night. If you get wet in the cold rain, wet your feet or chill in the wind, then the Hippocratic drink will help you cope with the malaise.

NB! The impact of magnets on the human body .