| | | |
| --- | --- | --- |
| Product code A00002 | Currently out of stock | |
AirComfort 3SK-AC0304M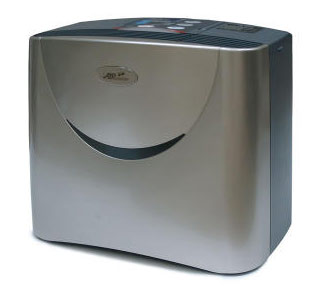 Currently out of stock
NB! Under the order. If in stock, delivery period: 7 - 14 days.
The new model Air Comfort 3SK-AC0304M uses a new UV technology. The UV lamp has been replaced by UV LEDs, which have the same effect on the photocatalyst as UV lamps. Significantly increased service life. Typically, a UV lamp has an operating life of 8000-12000 hours, and UV LEDs average 50,000 hours (5-6 years). Also, UV LEDs are not prone to burnout, unlike UV lamps. The wavelength spectrum of UV LEDs is 365 nm. The power consumption is negligible.

Excerpt from article (Source: Nanowerk )
"Researchers from the National Institute of Standards and Technology (NIST), in collaboration with scientists from the Universities of Maryland (Maryland) and Howard (Howard), have developed a technology for obtaining thin, high-performance LEDs from nanowires. As described in the recent paper "365 nm operation of n-nanowire/p-gallium nitride homojunction light emitting diodes", the resulting LEDs emit ultraviolet light, the exact wavelength required for light-based nanotechnology, including information storage. ."
Multi-purpose air purifier with seven stages of air purification AirComfort 3SK-AC0304M
Five stages of antibacterial air purification.
Air purifier plus humidifier
Automatic humidity control
Digital display showing current and set humidity
Shutdown in case of lack of water
Polyphonic melody with automatic shutdown.
Three performance modes
Possibility to turn off the humidification system (air purification only).
Ability to disable the ionization mode.
Remote control
The main functions of the AirComfort 3SK-AC0304M climate complex
Removal of contaminants
Removal of all large contaminants such as dust, hair, animal hair, plant pollen, etc.
Sterilization and pure humidification
Suppression of microorganisms (eg bacteria, viruses, fungal spores) and mites by ionizing the chlorine contained in tap water.
Removal of fine particles and inhibition of the growth of viruses and molds
Available function of humidification by evaporation (natural convection). The growth of bacteria and mold is suppressed by a filter that has been treated with an antibiotic. Management of humidification modes depending on various weather conditions. When the humidity in the room is too low or too high, the air purifier can automatically detect the humidity and adjust the humidity level even in continuous operation.
Sterilization
Suppression of bacteria, viruses, mold and mites by sterilizing with an ultraviolet lamp.
Deodorization and adsorption effect is better than activated carbon
Absorption and decomposition of bad odors and smoke. Through the use of a photocatalyst filter (calcium phosphate deodorant + photocatalyst), the air purifier eliminates all the unpleasant smells of cigarette smoking, mold, bathroom, pets, kitchen, car exhaust, new furniture and household waste.
Air purification function
Dust removal and sterilization (from viruses, dust, pollen, mold and pollutants)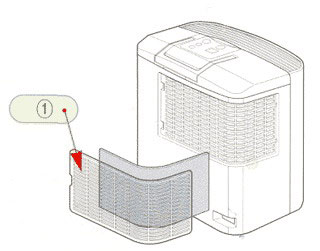 Air filter
Ion sterilization system
Antibacterial filter
natural hydration
Sterilization by ultraviolet
Bio photocatalytic filter
Negative Ion Generator (Ionization)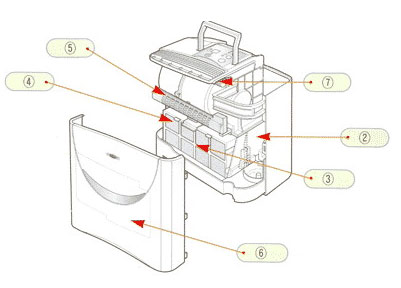 Air purification procedure
Dust removal (dust collection):
air filter
evaporative filter with antibiotic (water filter)
negative ion generation
Odor removal (deodorization):
evaporative filter with antibiotic (water filter)
biophotocatalyst (working principle)
negative ion generation
Suppression of microorganisms in the air (sterilization):
ion sterilization system
evaporative filter with antibacterial impregnation
UV sterilization system
biophotocatalyst (working principle)
generation of negative ions (Ionization)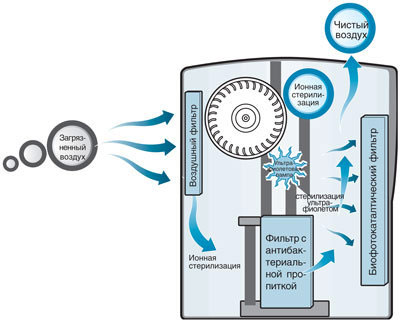 Specifications:


| | |
| --- | --- |
| Maximum performance | 250 m 3 / hour |
| Humidification performance | 350-400 ml per hour |
| Water tank volume | 4 liters |
| Service area | Up to 50 m2 |
| Power | 50 W |
| Dimensions | 385 x 245 x 352 mm |
| The weight | 5.8 kg |
| Voltage | 220 V/ 50 Hz |

Supplier: "AIR COMFORT" Italy
Warranty service 1 year The
product is certified in accordance with international law



---
Similar products