| | | |
| --- | --- | --- |
| Product code A00168 | Currently out of stock | |
AIC (Air Intelligent Comfort) KJF-20B06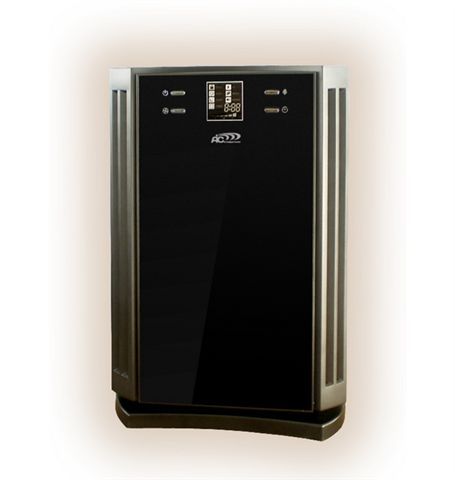 Currently out of stock
Air Purifier with Ionization AIC KJF-20B06

The high-efficiency Air Intelligent Comfort KJF-20B06 air purifier uses a six-stage cleaning system. It includes a pre-filter, a HEPA filter, a carbon (charcoal) filter, a UV lamp and an air ionizer, and a photocatalytic filter. As a result, the AIC KJF-20B06 ionizer achieves not only a high degree of air purification, but also reduces the number of respiratory diseases in people in the room. In addition, there is an improvement in the well-being of people who live or work in rooms where the purifier is installed. Multi-stage ionizer - air cleaner AIC (Air Intelligent Comfort) KGF-20B06 can be used both in the office and in the apartment - including the bedroom or nursery.
Main characteristics of the model
Model 20B06 / 20S06 is designed to provide a comfortable and healthy indoor climate. It is characterized by maximum efficiency in application, due to the fact that the suction air flow passes through 6 cleaning stages. As a result, not only dust is removed from it, but also plant pollen, various types of allergens, pathogenic bacteria are destroyed, and unpleasant odors, including the smell of tobacco, are eliminated. The air cleaner can be operated in one of three power modes. Additional convenience in its use is achieved due to the presence of a color, informative display and a timer. The presence of the purifier in the room is almost imperceptible, both due to its compact size and due to the minimum noise level emitted by it.
Advantages of the model:
• Stylish design, two glossy color options, black and silver
• Air ionization function
• Pre-filtering from large particles of dust and wool
• Combination of photocatalytic, HEPA filter, carbon (charcoal) filter and ultraviolet light for air disinfection
• Color display and remote control
• Timer
• Minimum noise level.
Air cleaner installation features
To achieve maximum efficiency of the appliance, it is recommended to install it on the floor or on a slight elevation. When using for the first time, it is advisable to set the fan to a high speed so that the air is cleared of dirt, allergens and unpleasant odors as quickly as possible.
Filtration system
The pre-filter purifies the air from large suspensions and dust.
HEPA filter , characterized by high performance, is designed to purify air from particles whose size does not exceed 0.3 microns. Effectively separates the smallest particles and detains viruses, a mold and any kinds of bacteria. During its operation, the degree of air purification is at least 99.9%.
Carbon (Carbon) filter is designed to purify the air from the vapors of chemicals contained in it (formaldehyde, ammonia, ethanol), as well as from smoke and unpleasant odors. Adsorbs harmful chemicals that a dry air filter cannot process. Activated carbon is highly effective in absorption and purification, can capture all kinds of impurities in the air, and performs the function of antiseptic and deodorizing. Activated carbon is highly effective in
removing tobacco smoke and odors.
Photocatalytic filter:
The interaction of ultraviolet with TiO2 (titanium oxide) causes catalysis, like photosynthesis, producing active oxygen with a high oxidizing power, which allows you to purify the air of various chemicals, as well as destroy pathogens. The photocatalyst oxidizes all organic compounds and some minerals, destroys the bacterial capsule and the integrity of virus proteins. Can decompose organic pollution into H2O and CO2 molecules that do not pollute the environment.
Exposure to a UV lamp neutralizes bacteria, viruses, fungi, sporangia, etc. Viruses such as polio, rabies, influenza are also sensitive to UV radiation.
The ionizer included in the design of the device produces negative ions that saturate the air in the room and make it fresher and cleaner. Negative ions effectively activate oxygen molecules.
Efficient operation of the air cleaner is achieved by choosing the right place for its installation, as well as setting it in accordance with the size of the room and the degree of air pollution in it.
Care and maintenance
Before starting maintenance work on the device, it is necessary to disconnect it from the mains by unplugging the power cable. It is not recommended to use aggressive liquids for cleaning the device - gasoline, solvents. It is recommended to clean the instrument once a month or more often as needed. To do this, use a soft damp cloth, on which a small amount of neutral detergent can be applied. Finally, wipe the instrument with a clean, dry cloth.
Cleaning filters
Timely cleaning of air cleaner elements from contamination will extend the life of the filters. The filters themselves also need to be regularly cleaned of dust, which prevents a decrease in the efficiency of the device and an increase in the noise level during its operation.
Design differences*
20B06 - Black color
20S06 - Color silver.
*- updated model AIC KJF ​​20B06 with new name AIC 20B06 and AIC 20S06.

AIC 20B06 / 20S06 User Manual (PDF format)
Specifications
| | |
| --- | --- |
| Characteristic | Meaning |
| Power consumption | 50 W |
| Rated supply voltage | 220V 50Hz |
| Service area | up to 40 sq.m. |
| Cleaning performance | 70 - 200 m3 / hour |
| Dimensions | 360 x 500 x 180 mm |
| Weight | 6 kg |
Warranty - 1 year from the date of sale.
---
Similar products