"Super Plus Bio LSD" - Air purifier-ionizer with automatic filter control, thermometer and hygrometer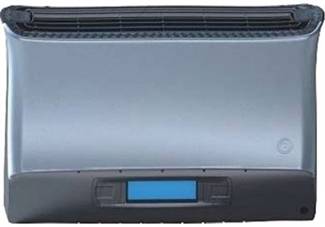 259.00 EUR
Under The Order (30 days)
The operation of the device is based on the principle of "ionic wind", which occurs as a result of a corona discharge and ensures the movement of air flow through the device cassette, while aerosol particles (dust, smoke, microorganisms) that pollute the air are sucked into the cassette together with the air, acquiring an electric charge and under the action of an electrostatic field, they stick to the collecting plates located inside the cassette.

The air passing through the cassette is additionally treated with ozone generated in the corona discharge zone, its amount is noticeably less than the maximum permissible concentration, but still enough to eliminate unpleasant odors in the room in which the device is operating, suppress the vital activity of pathogenic microbes, spores fungi, mold.

The air cleaner has five modes of operation , which differ from each other in the ratio of the periods of "work" and "rest" of the device, as well as the speed of the air flow, this allows the most efficient use of the device in rooms of different sizes.

Also, the air cleaner has an electronic system for monitoring the status of the cassette, which informs about the need to clean the air cleaner or about the absence or incorrect installation of the cassette in the device.

Operating modes:

1. Minimum - designed to work in a room with a volume of 20-35 m3, it is also recommended for people with increased sensitivity to ozone.
Interval: "work" - 5 minutes, "rest" - 5 minutes.

The air flow coming out of the cassette through the grill, and a quiet rustling, indicate the normal operation of the device.

2. Optimal - designed to work in rooms with a volume of 36-65 m3. Interval: "work" - 10 minutes, "rest" - 5 minutes.


3. Maximum - designed to work in rooms with a volume of 66-100 m3.

Interval: continuous work.

4. Forced- it is used for 2-3 hours in order to prevent infections transmitted by airborne droplets, or in case of severe air pollution.
This mode is activated by pressing button 6.
After two hours of operation, this mode is automatically deactivated. It is recommended to use the forced mode when there are no people in the room.

5. Forced plus - the device operates in forced mode all the time.
It is switched on by pressing and holding button 6 again.
Recommended for use in rooms with a volume of more than 100 m3.

The "forced" and "forced plus" modes can be switched off by short pressing of button 6.

Rules of using the Super Plus Bio air cleaner:

1. Place the device on a flat surface in a place free for air movement, at a distance of at least 1.5 m from the place of permanent residence of a person.
It is not recommended to install the air purifier near devices that are particularly susceptible to electrostatic fields.

2. Insert the plug into a power outlet.

3. Switch on the device by pressing button 5.

4. Pressing and holding button 5, select one of the three operating modes of the device (minimum, optimal or maximum). In this case, for the "Super-Plus-Bio (LCD)" model with an LCD control panel, the operating modes will be displayed on the display.
To fix the selected mode, release the button 5.
General view of the air cleaner.
Super Plus Bio Air Purifier (LCD)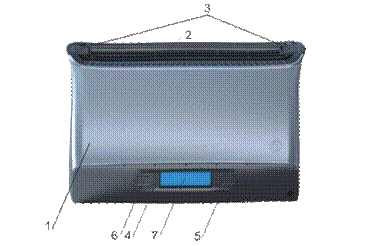 1 - Case, 2 - Cassette, 3 - Latches, 4 - Control panel, 5 - On / off button, 6 - Forced mode activation button, 7 - Information display for models with an LCD panel.
The device consists of two main parts: body 1, and cassette 2. The cassette is inserted into the device from above and fixed with latches 3. On the front of the device there is a control panel for the device
4. The recommended working position of the device is vertical.

Technical characteristics of the super plus bio LCD air purifier:

Power consumption: up to 9.5 W.
AC power supply: 220 V ± 10%.
Cleaning efficiency: up to 96%.
Concentration of negative air ions at a distance of 1.5 m: up to 40,000 ions / cm3.
Ozone concentration in the room: no more than 20 μg / m3.
The volume of the serviced premises: from 20 m3 to 130 m3.
The size of the captured particles is in the range: 0.3-100 microns.
Dimensions 287x191x102 mm.
Weight 1.8 kg.
Number of operating modes 5.
Service life 10 years.
3 year warranty.
Manufacturer: LLC "ECOLOGIA-PLUS", Russia.
---
Similar products