Ultraviolet germicidal recirculators DEZAR-4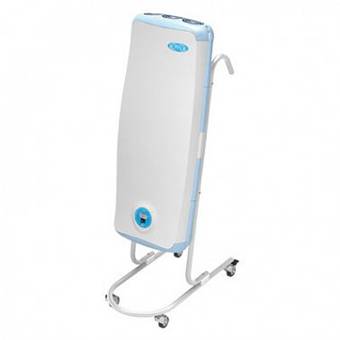 429.00 EUR
Ultraviolet germicidal recirculators DEZAR-3 (wall-mounted model) and DEZAR-4 (mobile model) are intended for rooms of category II-V (waiting rooms, medical treatment rooms, dressing rooms) and are very effective when using them in child care facilities (kindergartens, schools, nurseries, etc.), in the facilities for communal and consumer services (hairdressing parlours, beauty and massage salons, health resorts and so on).
| | |
| --- | --- |
| Quantity of lamps | 3 lamps TUV-15W |
| Degree of decontamination | 99 % |
| Performance | 100 m³/hour |
| Types of room | Category II-V |
| Power | 60 W |
| Parameters | 1200x370x580 mm |
| Net weight | 8,5 kg |
| Use in the presence of people | Yes |
| Wall-mounted | No |
| Mobile | Yes |
| Filtration | 10 µm |
DEZAR® — ultraviolet
irradiator - air recirculator
BREATHE CLEAN AIR FREE OF BACTERIA AND VIRUSES IN ANY ROOM AND ANY TIME
WHAT IS DEZAR
CREATED TO COMBAT VIRUSES
DEZAR – ultraviolet irradiator – air recirculator. Purifies air with efficiency of up to 99% already after one hour of use.
Destroys all bacteria, microbes and viruses known today.
SOME STATISTICS
An adult breathes in and out in average for 20 000 time, while about 10 000 litres of air pass through our lungs. Besides, almost 90% of our lives we spend indoors.

ATTENTION, FLU!
Viruses, bacteria, micro-organisms can survive in the air for a period starting from some hours to several days by freely migrating through rooms with air flows.

PURIFIES AIR
DEZAR decontaminates rooms from virus and cold infections (flu, acute respiratory conditions), bacteria, micro-bacteria and mould with efficiency of 99%.
DEZAR may be operated in the presence of humans and is harmless to human health. All products have been certified according to the EU directives.
FOR THOSE CARING ABOUT THEIR HEALTH
Dezar – a device created on the edge of medical and technological advances, serves those willing to live a healthy life. Helps people remain healthy in the periods of flue and cold epidemics.


WHERE IS DEZAR USED

CLINICS, MEDICAL CARE CABINETS
General practitioners, doctors are working in an environment full of aggressive viruses. For example, a family doctor consulting patients in his office
Dezar will help physicians, doctors, medical personnel, as well as patients to avoid catching any flu or viruses in the room.
CHILD CARE FACILITIES, SCHOOLS
Children are more prone to infectious diseases, because their immunity has not yet developed as that of adults. Therefore, if a child sick with virus or flu attends the child-care facility or a school, other children get sick as well.
A bactericide recirculation lamp placed in the room will help to decrease number of bacteria and viruses in the air to such level, which will prevent spread of sicknesses among children.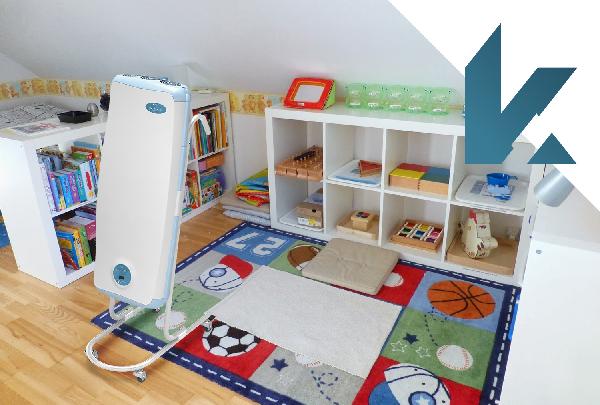 GYMS/SPORT CLUBS
Within one minute of breathing adults filter through their lungs 56 litres of air. A sportsman can breathe 140 litres of air within one minute. Now let's imagine a gym, where at the season of flu all machines are occupied.
DEZAR decontaminates the air in gyms, and also helps to neutralise unpleasant odours in the gym spread by bacteria discharged as a result of physical activities.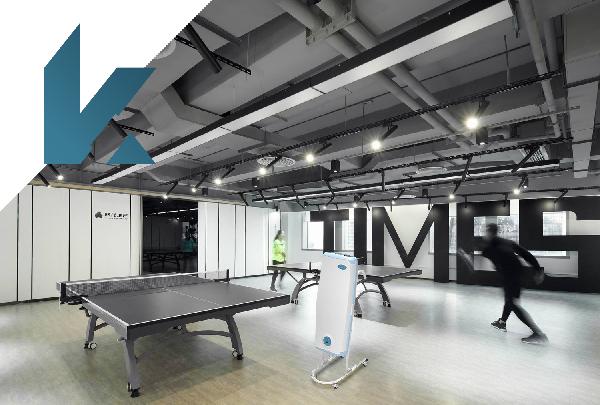 BEAUTY PARLOURS, HAIR-DRESSERS
Along with viruses characteristic for rooms with large turnaround of visitors other risks are also present. Masters at their work-places along with clients breathe in the air polluted with chemical compounds emitted from various sprays, dyes, colours. They breathe in dust polished off from nails, hair micro-particles.
DEZAR decontaminates the air without making people leave the room.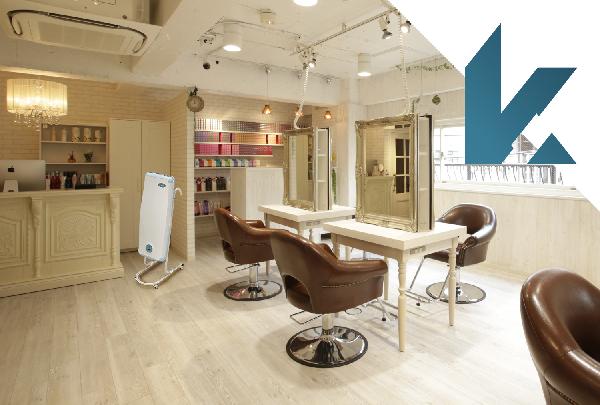 OFFICES, BANKS
Offices – closed rooms in the periods of flu are places of potential spread of infection. Air conditioning accelerates flow of air breathed out by people and thus increases risk of potential spread of infection among people in the room. Malicious micro-particles move faster and further with the air flows.
DEZAR eliminates the problem of closed premises by purifying up to 100m3 of air per hour, without causing need to leave workplaces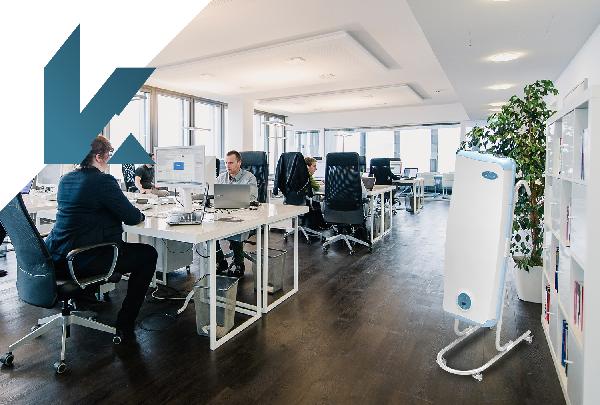 APARTMENTS, RESIDENTIAL HOUSES
Dezar-2 recirculators have been designed for use in residential houses and apartments. They comply with all the requirements set for such type of premises by ensuring protection required for adults and children. The original design and small dimensions allow accommodating this device in any interior.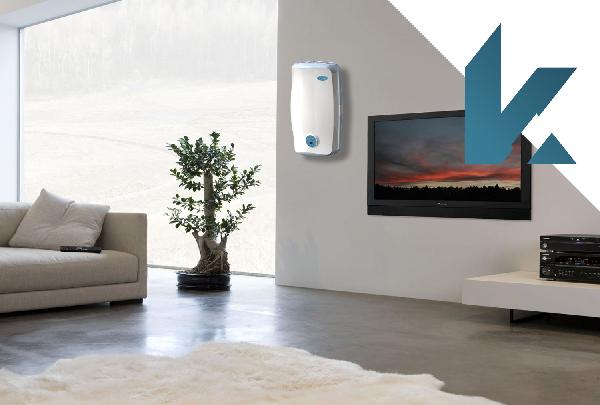 WHY DEZAR?
SAFE AND EFFICIENT OPERATION
Efficiency of air decontamination is 95-98% depending on the model of recirculator. Considering that no direct UV-rays and ozone is used, DEZAR recirculators are absolutely safe for operation in the presence of humans.
The entire line of products is certified by the company TUV NORD according to the Regulations 2014/30/EU and 2014/35/EU. Compliance certificate EU No.LVD/EMS 119/01.
HARMLESS DECONTAMINATION
Dezar will help to significantly decrease content of viruses, bacteria, dust, pollen in the air and will improve overall micro-climate in the room, without complete sterilisation of the air in the room. Achieving complete sterility of the air in household conditions with just a UV recirculator is difficult. It would require sterilisation of surrounding objects, then also no exchange of air can be allowed with other rooms and street, which in common conditions is almost impossible.
USEFUL SERVICE LIFE TIME OF LAMPS IS UP TO 9000 HOURS
Source of ultraviolet radiation – ozone-free lamps made by PHILIPS, LightTech or Osram with wave-length 253,7 nm. Uv radiation of such wave-length has a broad spectrum of impact on micro-organisms, including bacteria, viruses, fungus and spores.
Design of recirculator DEZAR uses only ozone-free lamps allowing for its operation in the presence of humans. Lamps can also be ordered from our company. The useful service time of lamps is 9000 hours.
REFERENCES FROM OUR CLIENTS
I am a family doctor. I attend to many children and even more adults in my practice. I find it necessary to protect my patients and colleagues from attacks of microorganisms, especially during periods of high activity of viruses. During this time none of my colleagues has suffered from seasonal diseases, as it used to be the case in previous years. I recommend to all general practitioners to take care for safety of their colleagues and patients!
Larisa Demidova / family doctor

WWW.LERSON.EE
---
Similar products