| | | |
| --- | --- | --- |
| Product code A00024 | Currently out of stock | |
«AirComfort XJ 100»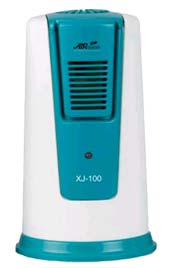 Currently out of stock
Micro-computer control, automatic operating cycle
Compact & exquisitely designed
Sterilizes your refrigerator once every 2 hours
Reduces food spoilage
Breaks down pesticide residues on fruits and vegetables
Low voltage indicator to reminds you when the Batteries replacement is necessary
Eliminates cross-contamination of food odors in your refrigerator
Kill and prevent assorted microorganism such as e-coli or bacillus pyocyaneus within 3 hours
No more food poisoning, diarrhea
Maintain food's nutrition content
Maintain fresh smell on food

Special Features:

Kill bacteria & sterilize with active oxygen.
Instantaneously fill your refrigerator with ozone, kills 95% of fungi, bacteria, mould from contaminated food and vegetable. Ozone causes the change of bacteria structure and a so-called metastasis process will destroy the bacteria. A standard concentration of ozone (0.04ppm - 0.08ppm) can kill over 96% of assorted microorganism such as colibacillus (e-coli) and bacillus pyocyaneus within 3 hours.
Remove stink and bad odor.
Ozone can also prevent odor cross contamination of food by oxidizing and disintegrating organic stink. When the refrigerator is opened, you will notice that only fresh smell will come out.
Breakdown pesticide while maintaining vitamin.
Ozone effectively oxidize and breakdown poisonous pesticide on the surface of fruit and vegetable but still maintaining the vitamin and nutrition on the food.
Maintain freshness of food.
Ozone can control the decay process of fruit and vegetable, together with its sterilization and odor removal properties can extend the shelf life of meat, fruit and vegetable.

Benefits:

No more food poisoning symptoms
Consumption of decayed food will cause food poisoning with symptoms of nausea, vomit, diarrhea and could even be life threatening. With XJ-100, you and your family are free from food poisoning.
Healthier with more vitamin and fresh food.
XJ-100 preserves the vitamin and the nutrition of your food. Thus your health is better with fresher & higher nutrition food.
No more pesticide.
Pesticide on your vegetables or fruit can be harmful to your health. With XJ-100, you only consume food that is free from pesticide.
| | |
| --- | --- |
| Model | XJ-100 |
| Voltage | DC6V |
| Power Consumption | 0.5 W 4xC" Dry Batteries |
| Oxygen Output | 0.08 ppm |
| Applicable Area | 250 L |
| Dimensions | 130x65x80 (mm) |
| Weight | 190g |
| Negative Ion Output | |
---
Similar products