Nevoton AK-201 A - beauty device – Dry and oily skin care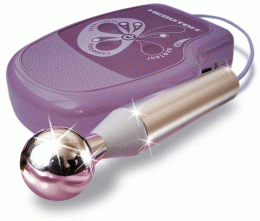 221.90 EUR
Under The Order (30 days)
Nevoton AK 201 beauty device pigment stains bleach Dry and oily skin care

Indications for use:

Galvanic Facial Cleansing
Iontophoresis, improves skin elasticity
Removal of rosacea (spider veins capillary)
Softening and scar removal
Removal of small and large significant smoothing wrinkles
Bleaching of pigment spots
For dry and oily skin care
Rosacea treatment

Contraindications:

– Acute infectious diseases and fevers of unknown etiology;

– Decompensation of cardiovascular disease and other serious physical illness;

– Malignant neoplasms;

– The presence of an implanted pacemaker;

– Individual intolerance of the current;

– Systemic blood diseases;

– Bleeding and a tendency to bleeding;

– Skin rashes, eczema;

– Sensitivity of teeth, chronic periodontitis, cysts, granulomas teeth;

– Diseases of the thyroid gland;

– Cysts and neoplastic breast disease;

– The presence of gold thread;

Specifications:

Supply voltage 9 V;
Exposure modes: Iontophoresis (constant galvanic current) Lifting (low-frequency pulse current)
The voltage at the electrode in the dc mode – no more than 42;
The voltage on the electrode in a pulse mode, no more – (+50/50) B;
pulse type – Bipolar;
Pulse duration – 1000 ms;
Pulse repetition rate – from 10 to 50 Hz;
Operating mode intermittent – 25 min. work / 5 min. break
Overall dimensions – 87x118x30 mm;
Vehicle weight without battery, not more – 160 g

Supply Voltage: 220 volt European standard electric plug.
In the USA, Japan, UK should be used with adapter.
---
Similar products